How do I create a new contact?
This takes two people, who for convenience will be called Alice and Bob. Both Alice and Bob select the New Contact tab (at the top on most systems, on the bottom for iOS), and "contact is at a distance". Alice types Bob's name, and Bob types Alice's name. The name is only used locally, so Alice could type "bob" or "Robert" as she prefers.

At this point, one of the two must go first. In this case, Alice and Bob agree that she should go first, and she presses "go". This takes her to the next screen, which shows her waiting for Bob's key. She tells Bob the shared secret, in this case "JJOROMEMKWRHOO", and he enters it on his "New Contact" screen before pressing "go".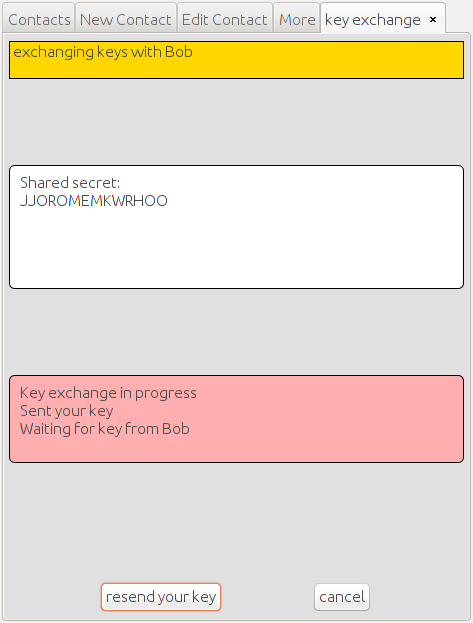 After this, the key exchange should complete automatically. If you get impatient, you may:
press the "resend" button, as often as you wish.
go to the "more" tab and press Trace, and see if you can find each other -- your own device's trace ID is always the one at a distance of 0.
or cancel the exchange